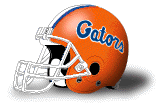 Losing sucks. I was raised to worship the Red Sox and the Patriots and, although this century has been damn good to both of them, losing was my way of life until I got to college. The Red Sox — a lot of kids today might not realize — were the team that was always pretty decent, but never good enough to actually beat the Yankees. For about 75 years. And don't get me started on the Pats. They had a nice season in '85, but otherwise New England's football team was straight-up pathetic until *very* recently.
Losing sucks.
So it was quite astonishing to me when I got to the University of Florida as a freshman in 1991. My team was good! We were winners! We won — seriously — like all the time. And we didn't just win. We usually beat the bejesus out of people. We didn't just score with an unprecedented air attack, we also ran back punts and kickoffs and interceptions. We ran like nobody else. We were the best team — or at least tied with the best team — in the state of Florida, the center of the college football universe.
So losing sucks.
Last night was so awesome of a beatdown, I was forced to reflect on where it sits alongside the great collapses in Florida football history. I wanted to compile a list of the five worst losses ever and was happy to realize that it wasn't that hard to do. There just haven't been that many losses since 1991.
Without even looking at the internet I was able to think of six games, six times that we lost and I was devastated. I can remember where I was, what I was wearing, who was with me, what I did before and after the game … these things are all cemented in my memory like nothing else.
I attended the 1999 SEC Championship Game in Atlanta as a guest of my friend's dad, who was a Vice President of the Winn-Dixie grocery store. We had luxury box seats and all the food and alcohol any fan could want. In that game Alabama's Shaun Alexander had 97 bruising yards on 30 carries. Current ESPN announcer and prior star of ABC's The Bachelor, Florida's quarterback Jesse Palmer was 7 of 20 for 80 yards, with three interceptions. At the time I felt like it was the worst loss I'd ever experienced in person, and riding home that night we suffered as the 'Bama fans threw curses, Gator chomps, beer cans, and spittle at us through the streets. So I've got sort of a sore spot when it comes to Alabama.
But I wanted to compile a list of the top five worst losses, and there's simply only room for one SEC Championship Game against Alabama on the list. The 1999 game is the one that didn't make the cut.

Auburn 36 @ Florida 33 (October 15, 1994)
SEC Heartbreak
This game makes my list of the five worst losses in Gator football history for three main reasons:
It was Spurrier's first home loss to an SEC opponent in the five years since he started coaching.
Auburn's final score — with 30 seconds left in the game — came after the interception of a Danny Wuerffel preposterous pass on 3rd & long when all we needed to do was run out the clock.
I was sitting in the stands about 20 yards from the play.
Yes, that's right. I was sitting right there. Just like Eli Manning's touchdown pass to Plaxico Burress to win the Super Bowl against my Patriots, this one stung more because it happened so close to me I felt like I could have swatted the ball away. Florida came into the game the number one ranked team in the country and having beaten its previous five opponents by the ridiculous average of almost forty points per game. I will never forget how many thousands of us sat in stunned silence for almost an hour after the game ended, staring at the field in disbelief.


See also: