Last week my wife called me to say that her laptop — my old Dell Latitude D610 — wouldn't boot. Of course her whole life is on this machine and she had a paper due that evening and, no, she didn't have any backups. So I left the office around 3pm to try to save the day. Alas, after about five hours troubleshooting and researching and on the phone with Microsoft and Dell customer support, I was forced to admit that the hard drive was toast. Three different Dell technicians all gave me the same advice: Reformat the hard drive and reinstall WindowsXP.
Doing that would have deleted all of her data — including her 3000+ iTunes library. This was clearly not a good solution.

I have been putting together and pulling apart computers for the better part of the last decade
Now understand that I have been putting together and pulling apart computers for the better part of the last decade, so I am pretty good at this sort of thing. I was able to use the WindowsXP installation CD to get into DOS and I could see that all of her files were on the disk. The problem was just that some of the files that run the operating system itself had become corrupted, so there was no way to access them. What I had to do was extract the data from the drive somehow.
If this was a desktop computer, it would have been a piece of cake. I've ripped disk drives from desktops dozens of times in my life and made them slaves to other hard drives to get what I wanted. This is a laptop, though. I was going to have to find a way to get the little tiny hard drive out of the laptop and connect it to another machine. But I certainly didn't own any adapters or devices for doing that. I called Fry's and asked them if they had anything to connect a laptop drive to another computer. They said I was going to need a "laptop hard drive enclosure" and that they had plenty.
So I jumped in the car and headed to the Fry's in Manhattan Beach, about 13 miles south of my house. Traffic on the 405 South was light at 8pm on a Thursday night, so I managed to make it in about 45 minutes; good thing they are open until 9pm.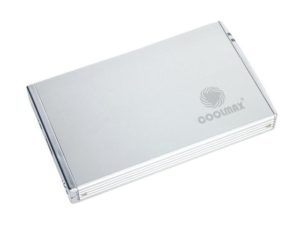 I found a hard drive enclosure manufactured by Coolmax for only $14.99 — what a bargain! (Note: Their website is horrible, but the product works.) The bad news is that I got a flat tire on the way home. If you've ever been driving in Los Angeles, you can imagine how thrilled I was about having to change a flat tire on a 4×4 Tacoma at 9:30 at night on the side of the 405. Luckily for me neither of the two CHiPs that passed this poor schmo bothered to ask if I needed help. That would have just completely changed my perspective on officers of the law in LA, and we couldn't have that, could we?
I managed to make it home by 11pm and got started. Removing the laptop hard drive was actually pretty simple work. Putting it into the enclosure was also a snap. So now the laptop hard drive was basically an external USB hard drive. Nifty! I plugged it into my laptop — a Dell Latitude D630 — and was able to recover all but about fifteen of her 5,000+ files. Not bad when you consider that I had been told all the data was lost.
The story is a bit more complicated. I ran out of space on my laptop hard drive, for instance, and had to wait to get to the office the next day so I could use one of our mondo huge 2TB backup devices to retrieve the rest of her files. And I attempted to reinstall WindowsXP a few times — an hour or so process each — on Tricia's old drive before deciding that it was, in fact, suffering from severe sector damage and too risky to return to service. So then I had to call Dell and have a replacement drive shipped to me, install that drive, reinstall XP and the gazillion or so drivers that a laptop needs, Office, AIM, iTunes, AVG, yadda yadda yadda. But you get the idea.
The good news is that everything should be fine pretty soon.
The moral of the story:
DON'T ALWAYS BLINDLY TRUST CUSTOMER SUPPORT!
ARCHIVE YOUR DATA!
MAKE BACKUPS!
And, if you have the option, marry a computer geek.
---
Responses to "Dell Laptop Hard Drive Failure"
cost to repair a Mac hard drive: $3000

Hello,

My name is Mike, I'm a Technical Analyst at Dell corporate headquarters in Round Rock, TX. I'm part of an internet outreach team developed to interact with the online community regarding technical questions and issues that customers face with Dell products.

I read your story and wanted to offer at least an explanation of the support. First off, I'm glad to hear you went the extra mile and were able to recover your wife's data. Just the 3000+ songs is definitely a hit that would make anyone cringe, not to mention all of the other files. More so, the flat tire must have put the whole ordeal over the top, but I'm sure (at least I'd hope) that it must have scored you some extra points with the Mrs.

Aside from the support, which, as far as software is concerned usually only covers basic troubleshooting and restoration to the original factory image (hence the "lets reformat" suggestion), I wanted to make sure that you received the replacement drive and that there were no other problems. If you do have any questions or still haven't received the drive, I'd be glad to help.

Thanks,

Mike
Dell customer advocate

I say we lure this Mike guy to L.A., fill him full of beer, carry him to an empty warehouse in Long Beach, and then leave him there with your laptop, a GPS receiver, a packet of Skittles, 6 triple-A batteries, and a 3ft. piece of dental floss. If he can manage to get back to the pub by 11pm without being fanny raped by friendly local gang of thugs, then I will personally write Consumer Reports and recommend Dell as a red dot with a hollow center in the customer service section.

P.S. – The trick is to spread the Skittles on the ground when being chased. Gangbangers are notorious for their addiction to "the rainbow".

Actually, after he posted that comment I contacted him and Mike was very kind and helpful. He was professional and intelligent and surely doesn't deserve what you describe.

Its sunday night, hard drive crashed, first lap top where can I find a computer geek? Lol. Tech support was very nice they told me about the modular bay and backup discs along with how to order. Hope this goes well I only know how surf the net, download and upload wish me luck.
New comments are disabled on this post.