This is day three of my fourth week on the Velocity Diet and at this point I am feeling pretty damn good about it. By this time next week I will be deep into Phase II of the program, during which I will get to consume a glorious healthy solid meal every single day. Right now I'm still downing five protein shakes each day and I have to be honest with you: I'm starting to get tired of chocolate shakes. (I had my 100th shake on Friday night and have had more than 20 since then!)
I'm still downing five protein shakes each day.
You're supposed to avoid watching the scale every day, but for a guy like me that's pretty absurd. (The V in DVG might as well stand for "statistics".) This morning I was a fully-clothed 185.8 lbs, which is 11.6 lbs less than when I began the diet. I'm right on target, which is awesome. I know that I've lost a lot of fat because I have definitely added a lot of muscle.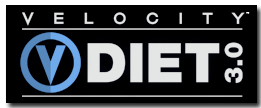 I can't see myself getting to the point where I have Men's Health-cover-model ripped abs by next week, but technically there are still three weeks remaining and it seems possible. My "love handles" have almost completely disappeared, there is zero body fat on my arms and legs, my chin and neck are slimmer than ever, and the ultimate six-pack is starting to make itself visible.
I managed to squeeze in three — three! — rounds of golf during Week Three so that counted for quite a bit of NEPA. My rockin' cool sister-in-law was in town last week with her husband, and it was disappointing to not go with the family to the several insanely good restaurants they hit. But I got to play 18 holes with my brother-in-law on Sunday and Tuesday and they'll be returning in about a month so I'll make it up to them then. I was also fairly rigorous in walking the hounds, Buddie (King Budrick the Lion-Hearted) and Prudence (Peanut).
I thought the workouts in Week Two were demonic — and I was right — but in Week Three they became absolutely sick. Kelly and I seriously amped up the weight and the program cut us down to only 35 seconds of rest between sets. In case you're wondering how long 35 seconds is when you're trying to deadlift 275 lbs 40 times, I am here to tell you that it is just enough time to take a swig of water and three or four gasps of air.
Aside from the quarter-cup of non-fat milk in my coffee each morning, I have yet to stray from the diet itself, although the siren-call of Coca-Cola is becoming alarmingly loud. For my third HSM on Saturday, I took the Queen Gagne to Houston's in Century City and feasted on an enormous New York strip steak and about my body weight in broccoli. It was heavenly.
Starting on Monday we get to eat real food every day!
On Easter Sunday — during the Masters — there was no way Kelly and I were going to get to hit the golf course, especially since we played on Saturday, and it wasn't worth the 30+ minute drive deep into the Valley, so I did the VBurn Challenge at home alone in the backyard. It took me 47:01 to hustle through all seven sets and, just like the previous two, I collapsed close to vomiting in the sweltering Los Angeles sunshine by the time it was finished.
Sunday night will be the end of Phase I and then starting on Monday we get to eat real food every day. And shortly after that we'll advance to getting two solid meals every day! It seems outrageous at this point. (Who eats that much?!) Our plan is to hit Emilio's in Encino after the gym on Monday night for the World's Best Chicken Piccata™, which I used to eat three or four times every week but haven't had in a month now. I'm drooling just thinking about it.
---
One

Response to "The Velocity Diet – Week Three"
Hey congrats on all the hard work. You have done a great job and it is awesome to see the dedication and work pay off.
New comments are disabled on this post.