I played a round of golf this afternoon at Porter Valley Country Club with Kelly and his dad and Rob. I shot a disheartening 117, although the round was not as bad as the scorecard makes it sound. I had a couple of great drives and was putting pretty well, but my short game seems to have gone on a vacation. I'm hoping it returns soon because — since I finally broke 100 last month — anything over 105 is heartbreaking. And then it was time to drive home.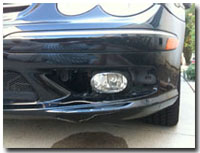 Driving in Los Angeles is always an adventure. Right around five o'clock in the late afternoon, I was doing about 68 mph on the 405 South, just north of the 101, when the car in front of me suddenly and dramatically veered to the left. I hit the brakes in shock but couldn't avoid the very large remnants of someone else's blown-out tire which flew into my bumper. I heard the double whump as it went beneath me and got a sinking feeling that money would soon be flying out of my bank account.

I slowed to a crawl but it didn't seem like there had been any damage. My tires weren't shaking or flat or anything and the car was handling fine. I began to think I had dodged a bullet and the freeway gods were smiling on me. I drove the rest of the way home anxious that maybe I'd find some scratches on the bumper or something like that, but since there didn't seem to be anything wrong I wasn't very worried.
Driving in Los Angeles is always an adventure.
I stopped at The Bigg Chill on the corner of Olympic and Westwood to get some frozen yogurt for my wife who was at home with a sore throat. That's when I saw the damage. My heart sank as I realized just how bad it was. The entire driver's side of the bumper was shredded. The matte-black grill that surrounds the fog light was completely gone, and there was a steady drip-drop of liquid creating a pool near the tire. (I bent to look and saw that the windshield wiper fluid reservoir was cracked and dented and spilling the cleaner onto the ground.)
"This," I thought, "really sucks." I called State Farm and got connected to a an after-hours agent. He was not very comforting. For example:
Him: And what time did the accident occur?
Me: It was about twenty minutes ago.
Him: And what time was that?
So I took a bunch of pictures with my iPhone and sent an email to my agent, Cheryl Jacobson, who has always been tremendously helpful. I have no idea if this sort of thing is covered by insurance, but I guess we'll see what they say.
Here are the wonderful photos of the damage: