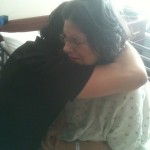 Today would have been mom's 65th birthday. My little sister took this photo of me hugging her just before Mother's Day last year. I miss her so much that it hurts, a phrase that people use frequently but not literally. But I very literally feel an ache in my heart.
The last time I saw her was just a few days after this photo was taken. She was sitting alone in the cafeteria of an assisted living facility in DeLand, Florida. She was awake but catatonic and it was awful.
I had gotten her a can of Diet Coke and tried to get her to drink it through a straw, which she seemed to do by reflex. I also got her a few Hershey's Kisses which I found in a gift basket that was left in her room. I unwrapped one and put it in her mouth, but she had no reaction to what was once her favorite food.
She just stared ahead, stoned out of her mind on a disgusting cocktail of anti-psychotic drugs that no matter how hard I tried I couldn't convince the doctors to stop feeding her. I told her I loved her and begged her to hear me, to see me, to blink, to do anything at all.
I walked away from her crying and haven't been able to stop very much since.
She died on August 12th, 2012, about three months after that visit, ten days before my son's second birthday, and about six weeks before her 64th birthday.