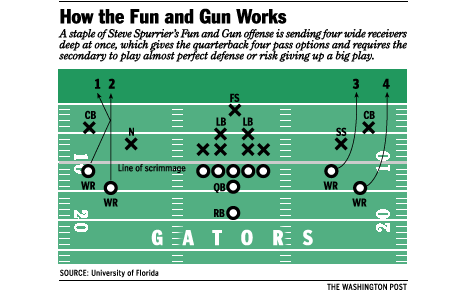 ---
Responses to "Fun and Gun"
I'm just hoping it translates to the 'Skins well. I was a big fan of him in Florida, and now that he's coaching my favorite team – the expectations are huge.

I was telling somebody the other day that the real genius of Spurrier's offense is that it seeks to create an advantage for his team by forcing the defense to make a number of choices, with the theory that eventually, somebody will choose poorly. To me, that's why Florida often seemed to run the same plays repeatedly – if he knew that a defender was prone to making certain choices, he wouldn't hesitate to exploit that as often as he could.
New comments are disabled on this post.