When I was a senior in college at the University of Florida I took an "honors" Hemingway class. My girlfriend at the time was spending the semester in Spain and she let me borrow her computer while she was gone. I somehow managed to convince my professor to let me build a website featuring all of my classmates' essays instead of writing a 50-page term paper. (This was back in the very early days of HTML, before anyone even started putting graphics on the World Wide Web, so it was kind of a big deal.)
The Hemingway site I built became pretty popular and — after graduation — I kept adding to it. People from all over the world sent me their essays and I would post them. Eventually I decided to get my own URL. I registered davidgagne.net with a tiny little start-up named Dotster and found another start-up, Dreamhost, to handle the hosting. At the same time another new company was becoming popular: Blogger. I started blogging on March 3rd, 2000 and have been publishing more or less daily to this website since then.
About Me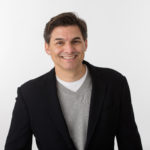 I was born in Pawtucket, RI in 1973. I moved to Daytona Beach, FL in 1979. I went to St. Paul's Elementary School and then Father Lopez Catholic High School. I moved away from home to go to the University of Florida in 1991. It took me a little while, but I eventually graduated in 1996. I moved to Los Angeles in 2000.
I've been to Maine, Vail, South Carolina, Paris, Portland, Rome, Atlanta, Austin, Denver, Dublin, London, Maui, New Orleans, New York City, Boston, Tampa, Nashville, Ithaca, Colorado Springs, Cancun, Tuscany, Big Bear, Chicago, San Francisco, West Palm Beach, Lake Como (Bellagio), New Hampshire, Miami, Las Vegas, Florence, Pisa, The Bahamas, Disneyland, Disney World, the White House, and Super Bowl XLII. I've been to a bunch of other places, too.
Even More About Me
You can browse the different header site logos I've used on this site over the years here.
How Did I Build This?
The majority of this website was built using the excellent Coda IDE created by Panic. I use it for all my HTML, CSS, jQuery, and Javascript development.
The CMS that runs the entire site is called WordPress, which I started using a year or so after it was released in 2003.
I publish the site using git, which I have configured to automatically ssh files to my production web server any time I commit.
Contact Me
The easiest way to contact me is via Twitter.
You can email me if you're desperate. My initials are "dvg" and the domain name here is davidgagne.net, so you should be able to guess what my email address is.
Products I Love
Podcasts I Love
Books I Love
Music I Love
The Beatles
Bruce Springsteen & The E Street Band
Bob Dylan
Simon & Garfunkel
Green Day
Tom Petty & The Heartbreakers