It's been just over two weeks now that I've been using my new Apple MacBook Pro (running OS X 10.5.4), and I think I'm now ready to post a list of the ten things I like most about it.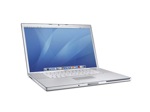 Everything is easy. This is really the most incredible of all the things I've learned so far. Every aspect of the operating system reminds me of how damn simple computers should be. I would not think twice about recommending, for example, an iPhone to my mom. Not in a million years would I want to try to explain to my mom how to synch a BlackBerry. But my whole experience with the Mac has been just like my experience with my iPod(s) and my iPhone. Things just work. It's almost revolutionary compared to my last 20 years of fighting with Microsoft products.
The MagSafe power cord is brilliant.
Every peripheral I've connected is recognized instantly and just starts working exactly as you'd think it should. There's no searching for drivers or restarting or having to install arcane DLLs or trying to find the right cables. Want to print? Connect a printer. Want to scan? Connect a scanner. Want to get photos from your camera? Connect it.
The battery lasts a long, long time. I've happily played games and checked email and done dozens of things for hours without running out of power. (With every Dell laptop I ever had I had to constantly make sure I wasn't trying to do too many things and fiddle with the power settings to try to extend the battery life, which never lasted more than two hours, no matter what I did.)
The screen clarity is amazing. Images are crisper and videos and movies are as beautiful as they are on my HDTV at home.
It is noticeably lighter than any other laptop I've ever owned.
I haven't had to do anything to connect to a network. The thing just knows when I plug in a network cable and / or when a wireless signal is available and connects on its own.
The few error messages I've received are just plain friendly. It doesn't ever seem to "crash", but instead when something goes awry, it's like my pal. It (more or less) says, "I'm sorry. Something isn't working the right way. We'll take care of it."
The machine itself is gorgeous. It's all sleek and shiny and smooth and sexy.
It is always ready. This might be my favorite aspect of switching. When I am done, I close the lid. When I want to start working again, I open the lid. Even on the two or three times that I've decided to turn the machine completely off, it only takes about 15 seconds to reboot. I can't tell you how awesome it is to turn on my laptop and start working without having to wait for the BIOS to load, then for the operating system to load, then for 200 subsystem components to load, then for the system to connect to a network, then to load programs … I would routinely start my old laptop and then go make a cup of coffee or do something else to kill time while I waited for it to be "ready". I don't have to do that now. The Mac is always "ready". It's just awesome.
---
Responses to "Switching to Mac: Top Ten Things I Like"
Just a comment on simplicity… I bought my wife a phone for Mother's Day. She left it on the counter and my three year old picked it up. Within seconds my daughter figured out how to unlock it and start launching applications. As annoying as it was to have to constantly pry a $400 phone out of the hands of my toddler, it was amazing that Apple made things simple enough for a three year old to figure it out without even being able to read the manual.

Hoho! How the mighty have fallen, Gagne! Welcome to the Apple world, hoho.

[…] of David, he switched to Mac a while ago.  He's been swearing to me that he can do everything he can on a PC, and it just […]
New comments are disabled on this post.