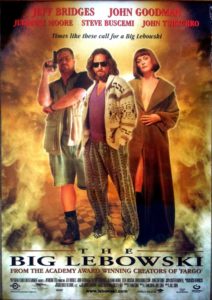 It took me almost ten years, but I finally got around to watching The Big Lebowski. I watched it with my buddy Bob on Sunday afternoon in his totally awesome, tricked-out basement theater in Denver and I thought it was hysterical. Surreal, yes, to be sure. It was beyond odd. Like Swingers, one of my all-time favorite films, I think that much of it is completely incomprehensible to anyone who hasn't lived in Los Angeles for a while. But it's definitely a great movie if you enjoy the Coen brothers' stuff.
---
Responses to "The Dude Abides"
I have tried countless times to like this movie. It just doesn't happen for me. I don't like any of the characters. I love the Coen brothers. Fargo is incredible. No Country was the best movie of last year. But for some reason, me and the dude…just aren't cool. In fact, we despise each other.

Yeah, well, that's like….your opinion, man.
New comments are disabled on this post.