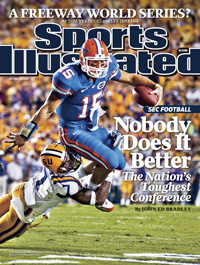 Arkansas is too good to be a trap game this year. In the games against Auburn, Texas A&M and Georgia, Arkansas scored in 11 of 12 quarters. They scored 10 points or more in 6 of those 11 quarters.
Urban Meyer received so many prank calls from LSU fans that he ditched his cell phone last week. (Also, I freaking love that Meyer frequently refers to his favorite players as "cool cats".)
Breaking news: Florida Gators do not watch SpongeBob SquarePants.
The World's Largest Outdoor Cocktail Party will have fewer places to buy alcohol outdoors this year.
There's a chance WR Carl Moore's back injury will sideline him for the remainder of the season.
Stay Thirsty, my Gators, for Tim Tebow is the Most Interesting Man in the World. (But is he the greatest college football player of all time? That doesn't matter. All that matters is that he is better than your team's best player.) #15 is also on the cover of Sports Illustrated. Again.
"We're a drama-filled team," Tebow said. "Hopefully the drama will be done."
There were 16 former University of Florida football players that saw action in week five of the NFL season, with 11 former Gators earning starting positions.
The Orlando Sentinel has a slick infographic displaying The Complete History of Florida Gators Football.
And here's some other football news not about Florida:
A recent article in The New Yorker by Malcolm Gladwell about football, dog-fighting, and brain damage is probably the scariest thing you'll read this year.
Is USF better than Oklahoma? USF beat FSU which beat BYU which beat Oklahoma. And the Bulls are the only one of those teams without a loss.
The SEC is a conference notable for it's impressive collection of asshat coaches, but coach Lane Quittin' Kiffin may be in a class by himself.