When I was a kid I thought that no year would ever be able to beat 1983 for movies. In addition to Return of the Jedi, Vacation, and WarGames — three of my all-time favorites — that year also saw the release of Scarface, The Right Stuff, Risky Business, Octopussy, Monty Python's The Meaning of Life, and the instant classic Trading Places. We're talking about serious cinematic superlatives here. I've probably seen each of those movies more than a hundred times.
And then along came 1999.
As far as I'm concerned 1999 was the best year in film ever. The Sixth Sense was released that year. So were Magnolia and Office Space. Varsity Blues was a 1999 film. There were easily a dozen awesome movies in theaters at the end of the last century.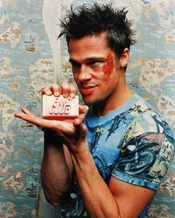 For me, though, 1999 was the year of the holy trinity of movies:
Star Wars, Raiders of the Lost Ark, and The Natural were the foundation of my youth. But these three movies — which all hit me like a ton of bricks over the course of a crazy month near the beginning of 2000 — have been the foundation of my adult life.
Like Pulp Fiction while I was in college, for some reason I waited and waited to see them1. I saw American Beauty the last weekend it was in theaters in Gainesville, Florida, and then saw Fight Club at a friend's house a few nights later and The Matrix at another friend's house the next night. To say that they were life-changing for me would be a dramatic understatement.
No, I don't think any of them are "best movie ever" quality movies. No, I don't model my life on Tyler Durden or have some fantasy about being Neo. No, I don't feel suffocated by suburbia. (I don't even live in suburbia!) But I did start thinking differently about … well … everything. And my life completely changed that year.
It's hard to believe that was all a decade ago.
---
1I did manage to see Pulp Fiction on the big screen; my buddy Bill and I skipped class and went to see it one lazy Tuesday in college. It was the first and last time I went to a movie with a guy, and we smuggled a case of beer into the theater under heavy jackets and sat with it on a seat separating us.