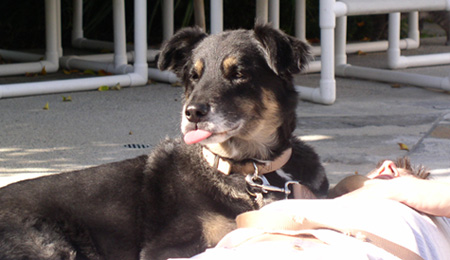 Rest in peace, old friend.

His official "name" was Buddie, even though the vets at Studio City Animal Hospital and the pharmacists at Valley Drug always printed it incorrectly as Buddy. I usually called him Bud, unless I was calling him to come into the house or to dinner, in which case I called him Buddie.
But if you knew him a decade ago, when he was just a pup, you'd think of him the way I always did in my mind: Sir Budrick. It's because of this photo:
Doesn't he look regal?
He was unquestionably the best dog I ever had. He was the best dog I think anyone could ever have.
The last 18 months or so were rough. He couldn't stand on his own, so every time — every single time — he needed to move, whether to go to the bathroom or to eat or just to move around a little, you had to help him get up. And he really couldn't manage getting up and down the stairs to the backyard very well, so nine out of ten times I'd simply carry him. He was about 65 lbs, and I hurt my back pretty badly at the beginning of the year one time when I lifted him the wrong way.
He had Cushing's disease, which wasn't fatal, but the drugs he needed to control it made him thirsty as heck. For the last three or four weeks he had to go to the bathroom just about every hour and a half. He'd wake me at midnight, 1:30am, 3:00am, etc. by whimpering softly until I crawled out of bed, helped him stand, walked slowly to the back door with his old creaky bones, picked him up, carried him down the stairs, and walked slowly across the patio to the yard. (Then I'd usually take a leak with him, of course. He was my Buddie!)
And he drooled. He drooled like a maniac. So my wife was constantly scrubbing the wood floors.
And he shed. He shed so much hair — big clumps at the end — that my wife vacuumed the whole house every. single. day.
He required so much constant care and attention that his absence has been staggering in its pervasiveness. My wife and I can't do anything at all without thinking of him. And we miss him.
I miss him so much.
We got him about a decade ago. Some friends of ours were remodeling their house. Every few days they'd go to the lumber yard for one reason or another, and they kept seeing this big ball of fur chained to the wall. After a couple of weeks they asked the owner why he kept the dog chained to the wall like that, and they were told that he didn't belong to anyone. The lumber yard guys found him wandering around one day and decided if they kept him in one place that someone might claim him.
Well that wasn't going to fly with our friends. It was just a terrible thing to do to a dog, of course. But they already had a dog.
So one day I came home from work and found him chained up in my front yard.
I argued with my wife — merely my girlfriend back then — that there was no way we could keep a big ol' dog like that. But let's be honest: That's not the sort of argument you are ever going to win with a girl.
So he became our dog. I'm certain that she did not want to name him Buddie, but she relented because I insisted on calling him that and because I had clearly lost the battle of whether to keep him.
We took him to the vet to make sure he'd had all his shots. He'd been abused at some point, it was pretty clear. He had bruises and some sores, but what really gave it away was how scared he was. When we first got him, he'd run in fear if I so much as raised my hand to brush my hair. It took about six months before he settled down and trusted us completely. (Until he got too old and frail to leap, though, he'd still run and jump into the bathtub any time I yelled at a football game. Jesus, did I feel guilty when I'd get up to grab a beer at halftime and find him cowering in the tub!)
And we didn't have to do anything to train him. He knew that going to the bathroom was something to be done outdoors. In over a decade I don't think he had an accident in the house but three or four times, and it was always our fault for not coming home quickly enough.
Man, I am just rambling now. There are so many stories I could tell about Buddie. (He flew with us to Florida! He jumped out of the bed of my pickup into the middle of Coldwater Canyon! We met John Lithgow on a walk around Westwood!)
There was a time when he'd go on three mile runs with me around Studio City, keeping pace and never forcing me to stop and investigate trees like most dogs would, so it was hard to see him barely able to walk these last few months.
His last dinner was a fantastic filet mignon from one of my favorite restaurants in Los Angeles.
He died with his head on my lap, while my wife and I rubbed his head and told him how much we loved him.
He was the best dog I ever had.
---
One

Response to "Sir Budrick the Lion-Hearted"
Dear David…I'm your dad's cousin, up here in cambridge, ma. My husband and i had a "bud" too, but his name was Jake. He was our best dog ever. Rescued in Tennessee at the age of approximately 2, he was forever grateful. The best was when my husband taught him to run along side his truck, in an industrial area,(for excercise), on the sidewalk. The looks he would get from people who worked in the area! He lived to be 14 or so, and the last few monthe were not easy. His last vacation was to Tennessee, in the R.V. Although we have loved many dogs, including another Tennessee rescue, Scarlett, there will never be another Jake.P.S. He looked like Bud!
New comments are disabled on this post.