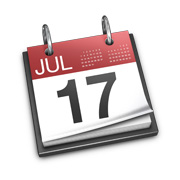 Between December 15th and January 7th there are 35 bowl games. That's way too many to try to manage in your day planner on your own.
You want to have all those games in your personal calendar, don't you? That way you can easily find them on your iPhone or whatever PDA you're using (or your laptop).
For some reason that makes no sense to me, this service is not available from Yahoo!, ESPN, Google, or anyone else. So I'm here to help.
You can use one of the links below to subscribe to the entire 2012 – 2013 iCal College Bowl Schedule in iCal, Google Calendar, or Outlook.
I'll keep the calendar updated with the teams, dates and times, television networks, and results as they are finalized.
Details on how this works can be found in my explanation from 2008.
---
Responses to "2012 – 2013 iCal College Bowl Schedule"
THANK YOU!! I've been searching for this!

Thanks for your effort David! Saved me a lot of typing!

You're a hero, David! Thanks!
New comments are disabled on this post.