The first casualty of war is the truth.

Note: This post is part of The Hemingway Collection, an archive of essays, images, and hyperlinks to interesting articles about the great American author.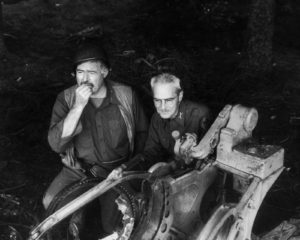 In September of 2016 The Huffington Post published a very interesting article investigating the question, Was Ernest Hemingway The Original American Sniper? It seems that the author repeatedly claimed to have killed at least 122 men during his time on the battlefield, which would certainly qualify him as one of America's deadliest snipers.
But it's hard to reconcile that with the fact that he was allegedly serving "as an American Red Cross volunteer in World War I, then as a journalist during the Spanish Civil War and World War II" and not as a soldier. According to the HuffPo article, even the artist Pablo Picasso said, "It was a lie. Maybe he had killed plenty of wild animals, but he never killed a man."