Note: This post is part of The Hemingway Collection, an archive of essays, images, and hyperlinks to interesting articles about the great American author.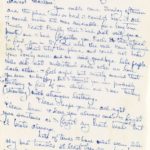 Ernest Hemingway wrote a love letter to Marlene Dietrich on August 12, 1952 and it was auctioned earlier this year.
The novelist and the femme fatale met on a French passenger liner in 1934. Hemingway was returning from an African safari with his second wife. Dietrich was traveling back to Hollywood after visiting relatives in Nazi Germany on one of her last trips home.