A friend of mine has a collection of travel posters of the Star Wars universe by Steve Thomas that I love. I'm a big fan of that classic retro/vintage style of travel posters in general. You can see a ton of them on the World Travel Posters Twitter feed.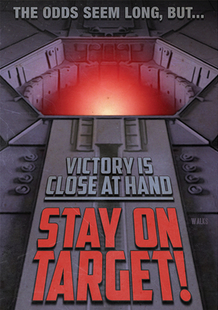 When my son and I went to the Star Wars Celebration Orlando convention we saw what must have been dozens of artists displaying their Star Wars-inspired art. One of the coolest was Russell Walks, who created some posters re-imagining the movies as pulp fiction novels and a bunch of really awesome 1940s-era propaganda prints for the Empire and Rebellion.
There are also a great many Star Wars travel posters for sale on etsy if you're into that sort of thing.
Louie Mantia has a nifty collection of Star Wars icons and backgrounds for your phone or computer.