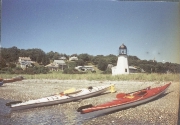 Here's another one of my dad's photographs. He's been kayaking all over New England for the last year or so. He's got a thing set up so he can have his camera on the end of the kayak while he's … er … kayaking. (Y'know, there really aren't any synonyms for kayaking.) I just think it's a cool shot.
---
Responses to "Christmas Eve Kayaks"
That is a really cool picture. 😉

Taken at Prudence Light, on Prudence Island, Portsmouth RI.
The island was named for his daughter by Roger Williams after being kicked out of Massachusetts and discovering the delights of Narragansett Bay.

We call it "yakking"
Love
Dad
New comments are disabled on this post.