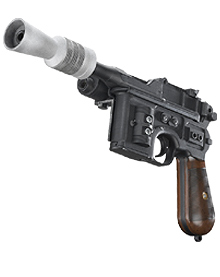 I suppose $499.99 is a bit too much to pay for a toy at my age … even if it would be the absolute coolest toy in the history of all time … even if it would be a toy I dreamt of owning for the better part of the first half (fifteen years) of my life … even if it would be something that would, perhaps, escalate me to Level III.
What is sad is that it is a toy that I could probably never explain to my (potential) children. It's a toy that even now is likely only understood by an ever-shrinking number of still-awestruck twenty-five to forty-one year olds. It's so, so difficult to explain a revolution to those either too young to have known the world before it or too unlike you to care.
---
Responses to "BlasTech DL-44"
this is SW memorabilia. and a part of history. you aren't required to explain it to anyone.

I making one of my own. I recently saw a Masters Replica DL-44 go for over $1000.00 on eBay, so you got yours for half of that price.

I didn't actually *buy* this, as much as I'd like to …

Little John's Auction Services sold the DL-44 used in Return of the Jedi by
Harrison Ford as Han Solo, for $185,000.00 in the Stembridge Movie Gun
Auction, June 5&6 (as well as the Smith & Wesson 1917 from Raiders of
the Lost Ark, and others …)

Yeah, I would love one, I remember the first time I saw that gun in the movie, "sweet gun!" was the thought that ran through my head. And I agree about the…. others.

What would the kids do with it. They wouldn't have a clue. Nor would most people for that matter. but the hell with them, I want it! ha ha ha

Think about it, we spend FAR MORE than 499 on our kids, wife, and other family in month. How much do we spend on ourselves? I say do what you want and get it. They wont starve. he he he
New comments are disabled on this post.