At some point about fifteen years ago I subscribed to Sports Illustrated. With the exception of a tragic few months during which most of my mail was trapped shuffling between coasts, I haven't missed an issue. Generally I ignore all the commemorative editions and t-shirt and sweatshirt offers; I have enough t-shirts and sweatshirts to clothe most of the Sudan, and Lord knows I have far, far too many back issues that I refuse to trash. But when I saw this morning the inevitable Gators Championship Package I knew I was going to have to make a phone call.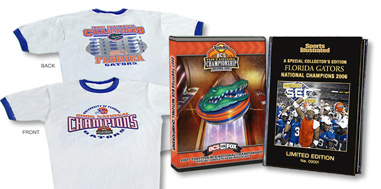 My annual subscription automatically renewed at the end of December and the Championship DVD, hard-bound edition, and t-shirt is only available to new subscribers, so I was ready for a fight. To my surprise the helpful customer service rep at SI graciously helped me credit my existing subscription towards a "new" one so I could get the deal. I am going to go out on a limb and credit that to the fact that the call center I reached is located in Ocala, Florida.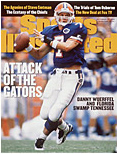 I should note that it was only through sheer force of will that I resisted the temptation to purchase the Danny Wuerffel framed cover of the 1996 National Championship issue. I actually have this issue (and the several others from that season that featured articles and / or cover stories on the Gators) in my collection already. I also have the sports pages of the Gainesville Sun from each week of that season in a box somewhere at my mom's house in Gainesville.
---
Responses to "Gators Championship Package from Sports Illustrated"
Do you have the 1996 Gators championship commemorative edition of SI? How much would you take for it?

I actually do have that. Just this morning I brought it into my office. I'm going to have it framed and hung on my wall with my other three (06 bball, 07 football, and 07 bball). Sorry, but it's not for sale.

If you need any Sports Illustrated mag with the Gators, look on ebay. There are always a few listed.

do you have the 1996 hard bound sports illustrated commemorative issue of their football championship. you show the 2006 edition. thank you

I have the 1996 framed sport illustrated with Danny Wuerffel on, in near mint condition. I am willing to sell.

SI has published five black hardcover copies of Gator national titles; three football, two basketball. I have four of them and I'm looking to complete my collection. I need the 2007 black hardcover SI "book" for the basketball title. Know where I can get one?
New comments are disabled on this post.