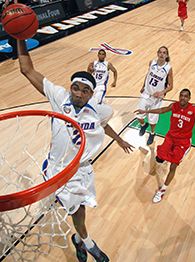 Can there possibly ever have been a better time to be a Florida Gator? Basketball … then football … then basketball again?! I almost — almost — feel bad for Ohio State. We don't even consider them "rivals", but they must hate us now.
The Gators became the first team to go back-to-back since 1992 and the first ever to repeat with the same starting five.
They finished with a 10-game winning streak and haven't lost a postseason game in 18 tries, counting sweeps at the Southeastern Conference tournaments the last two years.
The Florida Gators are, in sum, why we love college basketball.
Last year was for a ring. This year was for history and something as simple and pure as a teammate's respect. That's a legacy.
"Why go to Kentucky?" junior Corey Brewer said. "When's the last time they won a national title?"
Also see: Eddie Munster Coaches Florida to Second Consecutive Championship
---
One

Response to "Titletown, Florida"
Hello…I Googled for the history of basketball, but found your page about town, Florida – davidgagne.net…and have to say thanks. nice read.
New comments are disabled on this post.