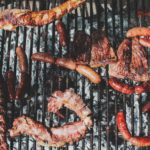 For lunch today a few of us walked next door to the new Brazilian restaurant that opened this week. It is literally in the building next to my office, so the bar at The Sampa Grill was the absolute closest place we could go to watch the second round of the Masters. The style is Churrasco, which basically means a tremendous amount of fire-cooked meat. I had pork, chicken, some sausage, and three different cuts of beer beef (typo!). I also had a salad and a bowl of soup. Even though the food was fantastic and all-you-can-eat, at $22 (including a Coke and the tip) it's a bit pricey to become a lunch-hour standard for us. But it was definitely a nice Friday afternoon treat.
Too bad Tiger didn't seem to be doing so well.
---
Responses to "Sampa Grill – Encino"
3 different flavors of beer? You never let me drink at lunch.

we work right next to this place too. it's really good. the daniel guy serving the meat is really hot too!
New comments are disabled on this post.