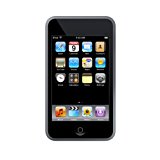 The restore I did yesterday on my iPhone failed to fix the problem I was having with the camera. Even after completely wiping the phone and resetting multiple times, the camera simply refused to save photos to its internal file system. I was ready to just complain at a Genius Bar in an Apple store this weekend (when I will no doubt be getting the new iPhone anyway), when I decided to do one last Google search for an answer. And, of course, Google provided. I followed the advice of olemono posted on April 22 and now the camera works again!
---
Responses to "iPhone Camera Bug"
Hello i have a question. My iphone fell at one point and now i am not able to use the camera as it shows green images,like it was possessed. The earpiece is also confused, foe me to talk without using the speaker phone i have to plug something to the earpiece or just talk using the speakerphone. Any ideas?

I can't get my iPhone camera to take pics it goes to the shudder screen but will not take pictures or videos I can c my previously taken though How do I fix this

hey my phone has this problem where i click on my camer or photos and it says updating library but once its almost done uploading it freezes and eits to the home screen!! my iphone is jailbroken too so i cant restore 🙁 any help pls pls pls
New comments are disabled on this post.