Update Feb 2017: If you are lucky enough to have one of the newer DirecTV DVRs, you may notice that there are two networking / CAT-5 ports on the back. If the DVR is on your WiFi network and / or connected to it via the top port, you can plug a CAT-5 cable directly into the bottom port and use that to get your XBOX 360 online. I have no idea why this port acts as a pass-through, but it's been working perfectly for me for months now.
If you want to connect your XBOX 360 to your home's wireless network, you could spend about $85 on an official XBOX 360 Wireless Network Adapter. But that will only get you one network port. I've got DirecTV and have been meaning to connect that to the network, too, so I can access the OnDemand system.
I made a trip to the Best Buy on Sawtelle and Pico, where the employees — even the Geek Squad "experts" — were, as usual, absolutely and pathetically useless. But I didn't let that stop me.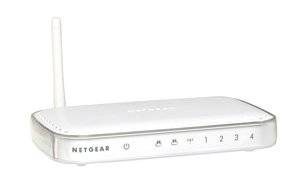 I asked 3 different Best Buy and Geek Squad reps if any of them had any suggestions for me. I explained that I have a Linksys wireless router broadcasting in the living room and I wanted to connect my XBOX and my DirecTV in the bedroom to that network. Surely there must be some sort of "repeater" or something I could get for the bedroom; I wanted to get a wireless receiver with a few network (CAT-5) ports into which I could plug both the XBOX and the satellite box. All three of them stood in front of rows and rows of networking equipment and told me that there was no such thing. I grabbed a Netgear WGPS606 54 Mbps Wireless Print Server with 4-port Switch, which sells for only $75, and said, "Shouldn't this do the trick?"
"No, that's a print server. That's not what you want."
"No," all three told me at one point or another during the hour or so I spent in the store trying to decide if I was right and they were wrong. "That's a print server. That's not what you want."
"But it has four network ports on it," I said, "and the description on the back of the box seems to be saying it will do exactly what I want to do."
I decided to take my chances and got the Netgear device. I also bought a couple of 3′ CAT-5 cables for $13.99/ea. (That's about $10.99/ea more than I should have paid for them, but I didn't feel like making an hour-long drive down to Fry's.)
When I got home and opened the box, the first thing I found was a foldout that displayed the exact scenario I wanted to configure. I was a little miffed when I realized that the print server came with a CAT-5 cable and there was an extra CAT-5 sitting next to the XBOX already, so that was $30 I didn't need to spend. (But I guess I've never gotten in trouble by having too many extra cables handy.) I plugged the Netgear into the last remaining outlet on my power strip and connected the XBOX and the DirecTV receiver to it with the CAT-5 cables. Nothing is ever that easy, though. The internet LED on the front of the Netgear kept blinking and I could tell it wasn't connecting to the network.
It took some digging in Google, but I found finally the default IP address of the print server. (192.168.0.102) So I connected my Mac to it directly via CAT-5 to access the configuration settings. (I had to change the network settings for my Ethernet port in order to access the Netgear's settings page via http.) Then I just had to tell the print server to use my home wireless network to connect to the internet. I can't imagine why that wouldn't be the default setting, but whatever.
The only really tricky part of the process was configuring networking on the DirecTV box. Even though my Linksys wireless router is acting as a DHCP server and handled assigning an IP address to the satellite box, I still had to manually enter the IP address in the DirecTV settings screen. Luckily for me the DirecTV screen displays the box's MAC address. I was able to view the wireless status screen (via http) of my router to see which MAC address matched and what IP had been assigned to it. Then I plugged that into the settings screen on the satellite box and got it connected to the Internet.
I've written all this on my MacBook Pro while sitting on the bed watching OU just destroy Texas Tech. I love technology.
---
Responses to "Wireless XBOX 360 + DirecTV"
I've had some problems with my setup as far as this goes. It connects to the internet just fine and downloads updates, but trying to stream music or video from another pc on the wireless network is like pulling teeth. It seriously reminds me of trying to network a mac and pc all those years ago…

I have a similar set up, sorta, I have a PS3 & Wii which both have a wireless connection. So I am able to use an airport express to connect my directv box to the network. What I am wondering is if anyone has ever been able to access the Directv drive from a mac or pc on the same network?

I want to do the same exact thing, with all of the same exact products except one, I have a time capsule. I was wondering if you would know how to do this with a time capsule. I have searched high and low and found nothing. You're the only person with something similar to my problem.I currently use my MacBook Pro to connect to Xbox Live.

I did the same thing last night at Best Buy, which 1 of the 3 thought this would work. I'm trying to find out how you connect the xbox to the print server (which acts like a wifi bridge?) to the wireless router? I'm on hold with Netgear tech support, but our version of English is very different. What did you have to do once you hooked up the ethernet from the Xbox 360 to the print server?

I can't connect my xbox 360 to my TV. I know its not the TV because its a new flat screen. I followed all the directions listed in the manual but I can't get the game to load. I have directv and tired ever channel but nothing! I called directv and they ask me what cables I have. How the hell I should know they setup my system and should know what cables were used! Can anyone offer suggestion on how I can hookup my xbox360 to my directv/Tv set.

I was wondering if there is anyway to connect the directv receiver to my xbox 360 and connecting to the internet using the xbox via ethernet. The xbox has a built in wireless connection. Is there a way to configure it to be used as a bridge to the modem? Modem is upstairs and there is no phone jack near the receiver. Please help!
New comments are disabled on this post.