February 4th, 2009 @ 9:15 am PDT
There are dozens of awesome features in the WordPress CMS, but one of my favorites is the ability to schedule a post for future publication. You can write a birthday wish to someone months in advance so you don't have to worry about forgetting. You can plan to have an anniversary note appear on your blog when your site hits a milestone. Or you can schedule a weekly feature, like this one, without having to remember to do it every week.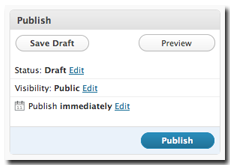 In the Publish box on the post-editing page, just click the Edit link next to "Publish immediately". Then enter the date you want your post to appear and click "OK". (The "Publish" button will change to "Schedule".) Now your entry will wait patiently to appear — hidden from spiders and the eyes of your visitors — until the date you chose. How cool is that?