Note: This post is part of The Hemingway Collection, an archive of essays, images, and hyperlinks to interesting articles about the great American author.
For a few months this summer I was a Birchbox member. It's a pretty cool service. For $20/mo you get a little box full of samples of hair products, shampoo, soap, and other toiletries, and then they also include something interesting like a pair of sunglasses or a wallet or an iPhone cable.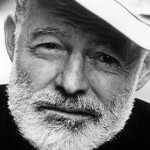 The last package I received contained a trial sized bottle of Histoires de Parfums 1899, which is — if you can imagine — a cologne inspired by Ernest Hemingway. I've never worn cologne; it's just not my thing. (I find it hard to believe that Papa did, either, by the way.) But I do like the smell of it. And so does my wife. What really intrigued me, though, was the quotation printed on the little box:
"There is nothing to writing. All you do is sit down at a typewriter and bleed."

Ernest Hemingway
Being something of a Hemingway fan, I wondered how it could be that I'd never heard this marvelous line or posted it to my Hemingway collection.
So I did a bit of Googling and found that I was right to be dubious. The Quote Investigator has an excellent entry about this saying. It's likely that Hemingway never actually said or wrote it, although a decade after he died someone else wrote a book about writing and said he did.
Remember that the next time you see a Facebook post attributing a wise saying to Morgan Freeman or a pithy one to George Carlin. I love those guys, too; don't get me wrong. But it usually only takes a second of research to discover who really said something.