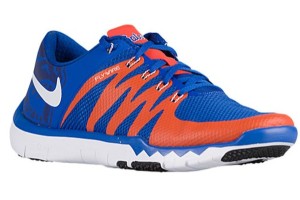 Earlier this month I read about the release of a new Gator-themed Nike sneaker on the Alligator Army website. (Follow them on Twitter @AlligatorArmy.) I jokingly tweeted a link to the story and wrote something about wanting someone to buy me a pair.
Last week a pair appeared on my doorstep, direct from Nike HQ in Portland! There was no packing slip or message of any kind, so it took me a few days to divine that they were a belated birthday present from my little sister.
How cool is that?! Best sister ever! Thanks, Jenny!