In the previous episode of iTunes Tuesday I explained the difference between Smart Playlists and user-created playlists. Basically the key difference is that Smart Playlists are ones that iTunes creates for you based on criteria you define and user-created playlists are ones you make by picking and choosing songs. Today I'll show you a couple of quick ways to create your own playlists.
You probably know that you can select a single album in the mini-browser, highlight all the tracks, and click File -> New Playlist from Selection to create a playlist which you can then burn to a CD. This is how people usually create CDs to give to friends, or to make a copy for playing in your car CD-player.
You might also already know that you can command-click on a Mac (or control-click in Windows) several songs and do the same File -> New Playlist from Selection to create a playlist.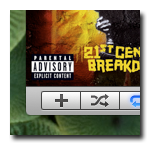 If you haven't decided which songs you want to add to a new playlist, did you know that you can click the little plus button (+) in the lower left-hand corner of iTunes to create a new blank playlist?
If you have already highlighted some songs to add to a playlist, you can hold the option key and left-click the plus button to quickly create a playlist from the selected tracks.