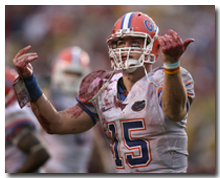 The season is so close I can smell it.
---
Responses to "Classic Gator Highlights"
HELP ME!!!! What channels/package/whatever can I get through DirectTv so that I can see EVERY game??????? No, seriously, I don't want to miss a minute!!

I can't guarantee that you will never miss a game, but the ESPN Gameplan is the DirecTV package to get. That's what I always do, and I haven't missed a Gator game in years.
New comments are disabled on this post.