Note: This post is part of The Hemingway Collection, an archive of essays, images, and hyperlinks to interesting articles about the great American author.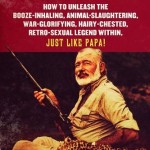 I just received an email from the publisher of a new book about Hemingway. The book is titled The Heming Way: How to Unleash the Booze-Inhaling, Animal-Slaughtering, War-Glorifying, Hairy-Chested Retro-Sexual Legend Within, Just Like Papa!. The email asked if I'd be interested in getting a copy to review, to which I of course replied in the affirmative. The promo copy is definitely intriguing:
More than fifty years have passed since the death of Ernest Hemingway, history's ultimate man, while today's young "men" (if you even can call them that), obsessed with Facebook, Twitter, and Playstation — know nothing about his legendary brand of rugged, alcoholic masculinity. They cannot skin a fish, dominate a battlefield, or transform majestic creatures of the Southern Hemisphere into piano keyboards. The Heming Way demonstrates how modern eunuchs — brainwashed by PETA and Alcoholics Anonymous — can learn from Papa's unparalleled example: drunken, unshaven, meat-devouring, wife-divorcing, and gloriously self-destructive.