If you include solo albums by John, Paul, and George, and things like Wings and the Plastic Ono Band, I've got over five hundred tracks in my iTunes library that I consider the work of The Beatles.

I love The White Album indescribably, but even I don't want to hear Rocky Raccoon ten times in the same week. So I have a smart playlist which I use to organize everything done by The Fab Four to make sure I don't ever get sick of anything.1 I don't usually listen to this playlist directly, but I do use it as a component of other smart playlists so I get a little shot of them just about every day, but on a much more clinical rotation than a radio station would ever play.
The trick here is to click the <option> key while pressing the little plus button when adding parameters. That lets you "nest" your playlist qualifications.
Here's how I do it: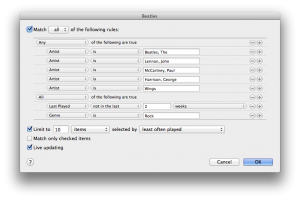 (click the image fora larger version)
You'll see that I'm limiting the genre to "Rock" because I don't want to hear Happy Xmas (War Is Over) or Wonderful Christmastime (both set to the genre "Holiday") in July. I've got the primary limit set to "least often played" so that I don't hear one song a thousand times and another song only ten times. The setting "Last Played" keeps the rotation fresh, and also means if I add a new Wings greatest hits CD (or something like that), it won't overwhelm the playlist until the play counts "catch up" to the others.
---
1 When I was a teenager I worked at Arthur Treacher's Fish & Chips in Daytona Beach, Florida for a while. For some reason I heard Penny Lane twice each night, every night, for over a year. It started to drive me crazy.