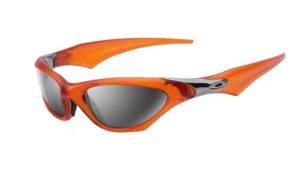 The day before the world changed I mentioned a little battle waging between Oakley and Sunglass Hut. It seems that Oakley feels that they are getting the short end of the distribution stick by the super-sunglass-store. I thought that the tirade on their site was kind of a tough tactic, but that's not all they're doing. I just saw an ad in Maxim magazine for these killer shades and noticed a skull and crossbones emblem at the bottom with the tag line, "Not Available at Sunglass Hut".
Yikes! Talk about guerilla marketing…
---
those are cool shades… i like the jacket 2.0 too. those are sweet.
New comments are disabled on this post.