May 3rd, 2013 @ 11:55 pm PDT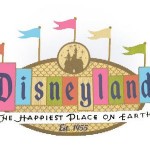 It's tough to be upset about a day that includes a ten-mile run before breakfast, lunch at The Stand, and a trip to Disneyland. But here we are. For the very first time since Kelly gave me my Nike Fuel Band almost a year ago, I didn't wear it all day. I started leaving it on the bathroom counter when I take a shower, and I simply forgot it. I made my 4000-point goal easily by running ten miles, but then I didn't earn any more points until I got home from work around five-thirty.
I managed to have my best Friday ever — 7537 points — because Nike technology is intelligent enough to acknowledge that chasing a toddler around Disneyland for four and a half hours is good exercise. But it should have been my new best day ever. (That's currently stuck on January 7th, 2013, when I racked up 8836 points by running a half-marathon before going into the office.) That irks me. But, man, there's nothing better than seeing how excited my son gets when he realizes we're at The Happiest Place on Earth, so I can't complain too much.

Here are the songs I heard on my run: