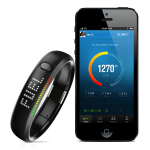 I've had my Nike Fuel Band for 294 days. I know this because one of the statistics it tracks is how many days you've been "active", and I have worn it every single day since I got it. I can't begin to tell you what a great motivational tool it is. I am a little more than a month away from 40 and I'm in the best shape of my life. (Yes, including the time I spent rowing on Florida Crew.)
The Nike Fuel Band comes in three colors: black (the original), black ice, and white ice. The black ice and white ice versions were released several months after the original. Kelly gave me an original black for my birthday last year and I instantly fell in love with it. I only removed it when I went to sleep, which was its doom. The Band — like everything and everybody — has an Achilles' heel.
You see, you can resize the band by adding or removing a little spacer. The spacer is held in place by an ingenious little spring mechanism. It comes with a little tool designed specifically to fit through a tiny hole in the band to press the spring and release the catch so you can change the spacers. (You could use a paper clip to do this; you don't really need the "tool".) And here is the problem. The band itself is waterproof. (The packaging says it's only water resistant, but for all intents and purposes it is waterproof.) But the tiny spring is not. It is susceptible to rust. It will take a long, long time for it to degrade, because there is only a very tiny hole through which any water can get to it. But after about nine months of sweat and showers and more than a few swimming pools, it rusted to the point where it just disintegrated.
I took my broken Fuel Band to the Beverly Hills Nike Store the night it broke and they exchanged it immediately, even though I didn't have a receipt and it was obvious that the tiny screw had rusted away which isn't supposed to be covered by their warranty. The only snag was that they didn't have any of the original black ones, so I had to get a black ice one. They changed the size system at some point in October 2012, too, so instead of an XL I had to get a M/L, which was a little bit tighter.
I didn't like the black ice version at all. The digital display was very difficult to read because the band is semi-transparent, so the LEDs bled into each other. The clasp on the black ice (and the white ice) is made out of plastic instead of metal and didn't feel nearly as secure. And, like I said, it was a little bit tighter on my wrist. I tried using the larger spacer, but that was too loose, so I had to live with it.
With the new one I was aware of the potential for rusting the screw, so I removed it every time I took a shower. But it turns out I was right about the plastic clasp. It only lasted about two months and simply broke one day while I was playing basketball with my son. The plastic cracked and the Band flew off my wrist and I spent about ten minutes trying to find the little pieces in my driveway.
The next day I returned to the Beverly Hills Nike Store and they again exchanged it with no problem. And this time they had the original black in stock, so I feel much better about that. The metal clasp is definitely sturdier than the plastic.
Oh, and if you want to challenge me, I'm GatorDavid in the Nike universe.