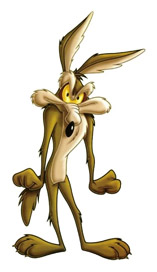 Oh, man! I don't know how I am just now getting news that Warner Brothers is releasing new Looney Tunes cartoons. I freaking love Wile E. Coyote. I remember screaming at the television, "NO! NO! NO! That's NOT GOING TO WORK!" I remember holding my head in my hands when that son of a bitch Road Runner got away yet again. That awful "beep beep" of his haunted me; I so, so wanted Wile E. Coyote to get him.
I also remember thinking that as soon as I was "an adult" I would get business cards that just said:
David V. Gagne
GENIUS
I think I shall do that right now.